October 1, 2018
Quipu User Group Accra 2018: On the Road to Digital Transformation
Over 50 people and 8 financial institutions from West Africa met together in Accra to discuss digital transformation in the financial field. Quipu User Group took place on 12th, 13th and 14th of September in Coconut Grove Regency Hotel, Accra. Quipu Processing Centre colleagues brought together clients, prospects and partners to take part in a new event under the motto: "On the Road to Digital Transformation".

Partners form MasterCard and KAL, together with Quipu speakers shared their opinions, thoughts and suggestions regarding digitalization, steering vibrant discussions and debates. During the three days, various case studies and panel discussions were conducted.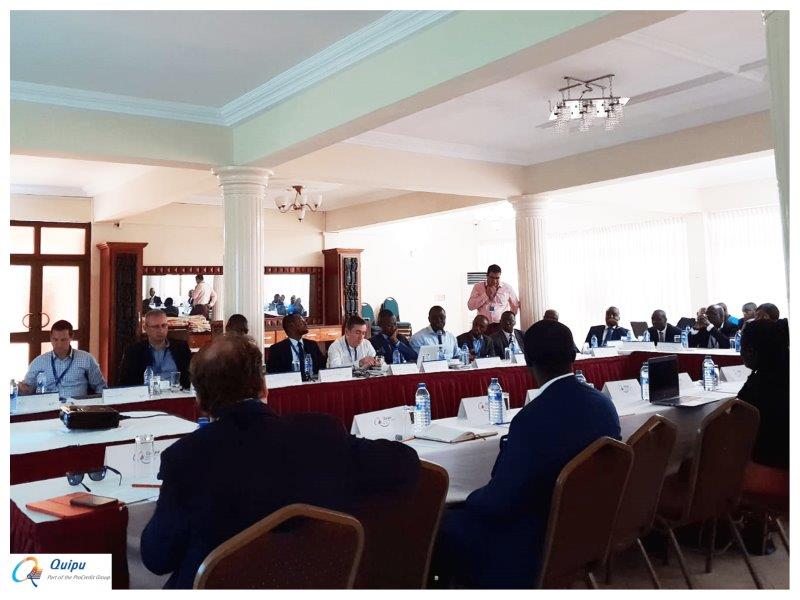 Quipu User Group started with the presentations of Eugenio Marengo, Head of Quipu Processing Centre, and Gian Marco Felice, Quipu Managing Director. They both shared Quipu's achievements and its status and have provided insights on plans for the coming years.
Bernard Acquaye, Regional Office Manager of Quipu Accra, shared the accomplishments, as well as the challenges faced since the establishment of the regional office that recently marked its 10th anniversary.
Ilir Aliu, CEO of ProCredit Bank Kosovo presented the "Branch Transformation towards Digital Banking" case study, which focussed on the evolution of the ProCredit Bank physical network from a cash centric client attendance to a full-fledged automated 24/7 Zone where clients are using only electronic channels to perform their transactions. Participants showed significant interest, having presented proved cost effectiveness measures implemented by the bank to increase its performance and efficiency.
Aravinda Korala, CEO of KAL, continued with his concept of introducing the cashless ATM, namely the RTM (Retail Teller Machines). He encouraged the attendees to understand where the new ATMs are heading and the need of adaptation to the current needs of bank users.
One of the key talks of the event was the "Digitalization and Profitability" case study presented by Hugues Bonshe Makalebo, Deputy CEO at Equity Bank Congo. He emphasised that, despite of political instability, low level of financial literacy and lack of infrastructure, it is possible to make a business case out of digitalization. By fostering alternative channels, the bank managed to have a sustainable growth and branch expansion, while reducing the operational costs of the overall branch network. Quipu Agency Banking solution was, in fact, an effective alternative to ATM and branches for expanding the market presence of Equity Bank Congo.
MasterCard´s Country Manager Obi Okwuegbunam presented MasterCard´s digital solutions, making it clear that MasterCard sees no other option for the financial institutions than getting digital in order to survive and succeed.
Bekim Desku, Quipu Head of Customer Implementation Service (CEMEA) held two talks about the Issuing & Acquiring products in Quipu Processing Centre. His talks were well rated by the attendees, rising many questions and suggestions that were of great interest to all participants.
The panel discussion featured Equity Bank and Fidelity Bank and was dedicated to E-Commerce Acquiring Penetration in Africa, namely, in Ghana and Congo. Both institutions provided some insights on the steps they are taking for positioning themselves as leaders on e-commerce in the respective markets. With several questions from the audience, the debated proved rich and engaging.
Due to Quipu's global operations, we welcomed the participation of our colleagues from El Salvador Regional Office, who shared the experience from the Latin American market. Rosa Maria Orantes, Quipu Head of Customer Implementation Service, LAC Region, and Jason Aviles, Quipu Regional Office Manager presented the case study of Avanz Bank in Nicaragua, which focused on Quipu Credit Card Concept, as well as on building a Card Loyalty Program. Participants enquires were addressed in a valuable manner, based on significant experience on both topics.
Kaushik Pattnayak, Quipu Head of Research and Development, introduced Quipu Processing Centre innovation road map, showing the products that Quipu Processing Centre is preparing for helping the financial institutions for the digital transformation process.
The talks series closed with the topic of industry changes in security regulations, GDPR and PSD2 presented by Gleb Stolyarov, Head of Information Security, Risk and Compliance in Quipu. He shed some light on cyber security and data protection, and brought to the table new subjects of focus for the security industry.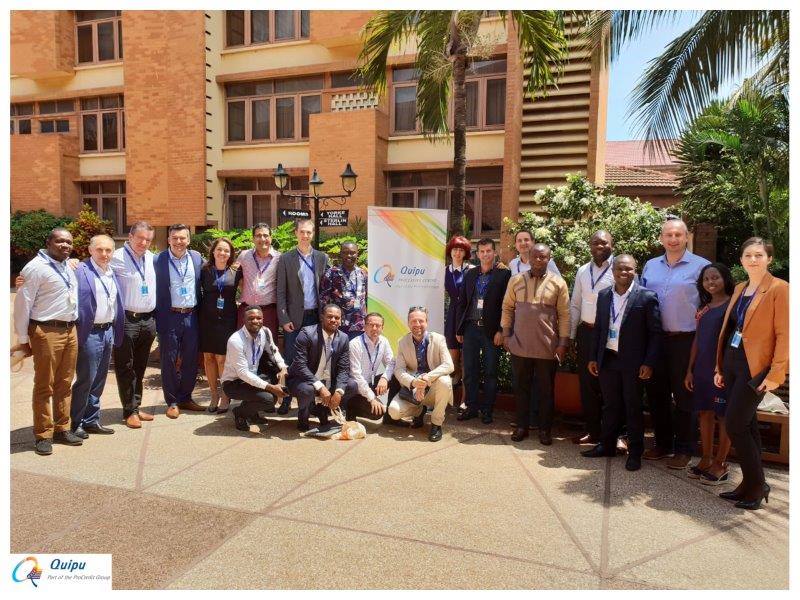 Well aware of a very dynamic field we are operating in, we take high responsibility in making these types of interactions possible further on, and we are always open for valuable exchanges of ideas that bring benefits to all who participate and contribute. Therefore, the Quipu User Group of 2018 remains a milestone in our activity aiming at fostering a community targeting success on the global market.