Summer Internship
Ooops, you are reading about an old programme. If you are looking for an internship in 2023, click here.
Join us for the summer! 
We know you have worked hard over the year, and you have studied for your future. 

 

We know you deserve some time to relax.

 

We know you are just too ambitious, so you are still willing to put in some time for gaining that hands-on experience.

 
So, join us for the summer! This is your time! 
We have put together an internship programme that respects your youth and your development path. You are welcome to join our development teams at work and during our many outside team events.  
Internship details: 
Period: 2-month internship from July 18 – September 9

th,

2022

Duration: 100 hours (on average 3 hours/day, 15 hours/week)
Location: Our Quipu Office from Skopje, North Macedonia
Remuneration: Yes, this is a paid internship 
Equipment offered: Yes, for the entire period of the programme, at the location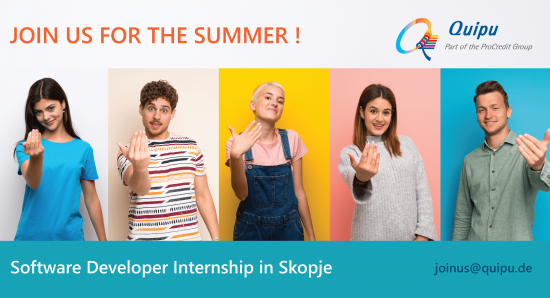 Here's what will happen: 
1. You go through the full description of the programme and you decide if you can be on board (we recommend it!)
2. You check out our three development areas that offer internship positions now and you decide on your best match
and you apply for one of the positions, as instructed, by July 10th.
If you cannot decide now, that is fine, you can still send your application to joinus@quipu.de  by July 10th, 2022, with the subject Software Developer Intern (Generic) and we will see what suits you best during our discussions.
3. In either case, let us know how we can best reach you; we'll contact you fast and we'll have a short talk to get to know each other and answer whatever questions you may additionally have.
4. We finally meet live on July 18h, 2022, at our Quipu office in Skopje – see more about it here (link). We'll tell you more about Quipu, our Group, and our international presence, and help you understand how we work.
5. We present and agree on the schedule for the next 2 months.
6. You learn from us, we learn from you, we enjoy our time together. It's a win-win.
7. We say goodbye for the autumn, letting you enjoy a well-deserved vacation and then complete another successful year at the University. That would be the plan, but we're always up for continuing a good relationship. We'll stay in touch!
What we expect from you 
Don't worry, we don't expect you to be perfect and know it all, this is after all a starting point, but we expect you to: 
Communicate openly with us to make the best out of our time spent together

 

Ask questions and ask some more

 

Trust our lead developers and put in the time for your assignments

 

Be friendly, respectful, and interested

 

Show up as we agree, on time, and on schedule – there is no way to learn unless we all get involved with time and willingness

 

Enjoy the process and stay in touch

 
Do you have more questions before you decide to send your applications? We'll do our best to answer them all – write to us at info@quipu.de