Anita was a student at the Faculty of Computer Science and Engineering in Skopje and a Quipu Intern in 2022 in our Skopje Office. We asked her about her experience and here's what she said: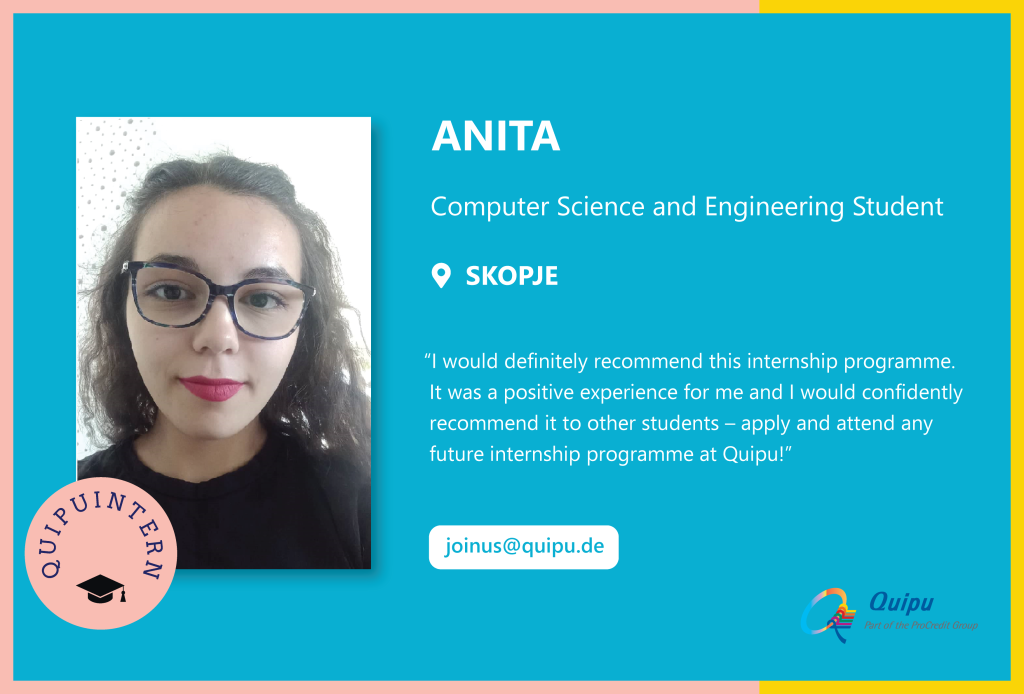 I recommend this programme to you if you want to start your career in IT. I joined the Quipu Summer Internship in Skopje in the summer of 2022 as a Software Developer Intern and it was an experience I will always appreciate. I did not know much about Quipu until seeing the internship announcement, so I read the information on the website and thought, yup, this one is for me!
Now, let me address some of the questions I know I had when I started.
Do the internship expectations match the reality?
I admit, it sounded promising, and I was hopeful, but I was still concerned about the work environment and about the actual time the team will have for us. Nowadays people seem to be very busy and preoccupied, I thought they too might not really give us the time of the day and we might just hang around for some hours. But this was not the case in Quipu offices in Skopje. I liked the time we had to discuss from the interview until the end of the programme, I felt like we mattered! All the employees that I have met were polite, helpful and attentive, and our mentors even more, so that went above my expectations in a very positive way.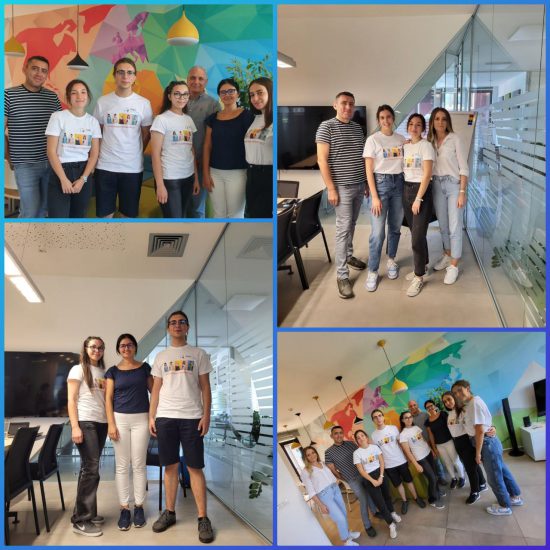 Will I really learn something during this internship?
I found the programme to be easier than I thought it would be, probably because the internship was part-time, but I guess this pace of learning is suitable at this stage. Through this internship programme, I have learned a lot, and of course, it remains a significant part of the beginning of my career development process.  I liked the overall company culture, I liked that everything is well organized and separated – one team is in charge of communication with clients, another of development, etc. So, I learned about software and IT, but also about how companies operate behind closed doors and how they present themselves in public communication.
Another positive thing is that we had meetings with our mentors every day, which facilitated our learning; they gave us instructions about what we should focus on for the day and what are the expected outcomes so that we are aware of the purpose of our work. Additionally to this, the mentors taught us and helped us a lot by sharing very useful tips, links and other resources from which they guide themselves as senior programmers.
Will I like the office time?
I personally liked going to the office. The friendly environment, the colourful set-up, the work environment, and the ethics made it a great experience for us to be there. I would give it 10 out of 10. As for the at-home time, I did not need to be working from home during that period, but it is very useful to have such flexibility for some projects where you may be needing some more quiet time. I did not need it at that stage, and I would have even liked to be in the office for more than 3 hours per day or full-time in order to have more time to work on more tasks. To me, that is even more commitment and more knowledge gained.
So, Anita, what should a future Quipu intern know?
I would definitely recommend this internship programme for all the points I expressed here. It was a positive experience for me and I would confidently recommend it to other students. Apply and attend any future internship programmes at Quipu and trust the process! You will learn and you will have fun, too!