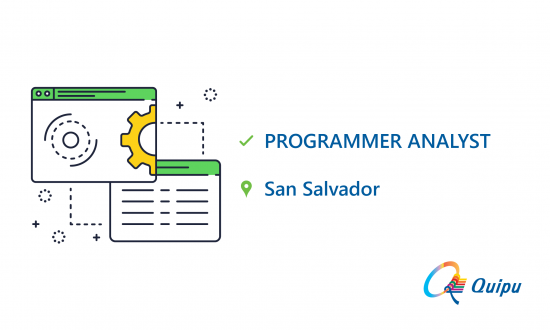 We are looking for a Programmer Analyst to join our team in SAN SALVADOR.
Quipu is an IT consultancy and software development company, which provides comprehensive end-to-end solutions for banks and financial institutions, from electronic payments to software systems. We are a 100% subsidiary of ProCredit Holding, the parent company of a group of banks that specialize in providing financial services for SMEs.
Headquartered in Frankfurt, Germany, we are currently operating from 8 regional offices around the world – in El Salvador, Ecuador, Ghana, North Macedonia, Kosovo, Ukraine, Russia and Romania – enabling us to promptly address the needs of a global customer base.
As an international organisation, we value diversity and we are dedicated to a culture of growth and innovation, creating an environment where everyone has the opportunity to develop their skills and fulfil their potential.
What your key responsibilities will be:
Identify requirements by discussing with clients and with other persons in a position to understand service requirements
Provide analysis of the software requirements, workflow chart and diagram using knowledge of computer capabilities, subject matter, programming language, and logic
Program software in coordination with the core software developers following standards and practices and using Frameworks and APIs
Confirm program operation by conducting tests; modifying program sequence and/or codes
Maintain professional and technical knowledge by attending educational workshops; reviewing professional publications; establishing personal networks; participating in professional societies
Provide corrections and modifications in the source code of the software according to the support requests of the customers
Skills and experience we expect from you:
Bachelor's degree in computer science or electrical and electronic engineering or automation
knowledge of .NET framework, C#, WCF, WPF, WWF, MS SQL server, Transact SQL, SSIS, SSRS, TFS
Comfortable Writing and Analyzing SQL Queries
Hands-On Software Troubleshooting Experience
Ability to analytical and critical thinking
Good communication and organizational skills
What we offer:
Excellent team-oriented, dynamic and international working environment
Challenging, engaging and varied tasks
Personal and technical skills development with certified trainings
Modern workspace
Business cell phone provided by the company
English classes
Travel possibilities
20 paid vacation days
Private health insurance for you and your family members 
If you see yourself in this role, let us know in an e-mail, we would like to get to know you.
Send us your application including CV, motivation letter, salary expectations and Job ID 22016  at joinus@quipu.de, by 31.10.2022.