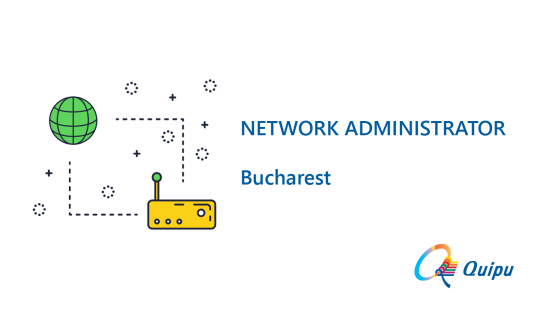 For our office in Bucharest, Romania we are looking for a motivated and enthusiastic Network Administrator(m/f/d) (Job-ID: 21009) to join our international team at the earliest possible date.
Main tasks and responsibilities:
• Support, maintain and improve local and wide area networks, routing protocols, site to site VPN links, leased lines, etc. based on Cisco technologies
• Providing operational support, incident resolution, proactively notification of network issues
• Maintaining and supporting security systems and solutions including Next Generation Firewalls, IDS/IPS, Cisco AAA, RADIUS, TACACS+
• Maintaining network routers, switches, access points, adaptive security appliance firewalls and other network equipment for multiple locations
• Actively monitoring network stability, bandwidth and performance; proposing where needed to increase network availability and stability
• Creating and updating documentation, as it relates to network and system configuration, mapping, and processes
• Utilizes monitoring, performance analysis, network management software and tools (such as packet captures) to troubleshoot and isolate problems, as well identify optimization opportunities and utilization/capacity trends
• Assisting in the support of all server and storage platforms that communicate through the network
• Identification and resolving communication hardware and software related failures and issues
• Ensuring accurate and consistent updates to the Configuration Management Database
• Assisting the Change Management process in assessing the impact of the non-standard requests for change
• Assisting the Release Management process during the release cycle, developing standardized configuration items
Requirements:
• Strong technical skills in network administration; 3+ years overall experience with Cisco network solutions: (CCNP – considered an advantage or active CCNA) – previous work in an international company preferable
• Solid understanding of Cisco internetworks, routing and switching and related protocols, LAN/WAN is required, firewall platforms
• Operational knowledge of principles, practices and techniques used in the installation, maintenance, support and management of Cisco routers, switches, firewall devices
• Understanding of IPSec / Remote Access VPN technologies
• Operational knowledge and understanding of ACL usage and configuration
• Demonstrated experience with TCP/IP stack and its internals as well as related troubleshooting tools (connectivity verification, packet capture etc.)
• Proven experience with network services and dynamic routing (EIGRP, OSPF, TCP/IP, HSRP, IPSLA, IPSec, SNMP, RADIUS, TACACS, etc)
• Experience with L2 technologies such as Trunking, VLANs, STP, EtherChannel, etc
• Experience with monitoring tool (SolarWinds suite would be considered an advantage)
• Knowledge of any of the following technologies is considered an advantage: WLC, ISE, F5, VoIP
• ITIL Foundation (preferably)
• University degree, preferably in computer science or relevant experience
• Working knowledge of English language
• Availability to travel
• Availability to work outside of business hours, rotational, based on a specific schedule
• Customer-oriented, reliable and accountable team player
• Flexible and adaptable personality, good organizing and prioritizing skills
• Candidate is expected to have a solid moral compass, a high level of ownership and desire to work in a high tempo working environment, as well as provide innovative solutions
Our offer:
• A substantial degree of flexibility, allowing for an autonomous approach to performing duties
• Challenging and varied work
• Flat management structure
• Long-term prospects with plenty of opportunities for development and growth
• Excellent team-oriented and international working environment
If you think you fit the profile, we look forward to receiving your application in English, including CV, motivation letter, and salary expectation, at the following e-mail address:
The deadline for receiving of applications is 30th April 2021. Please include the Job-ID and the city you apply for in your application.