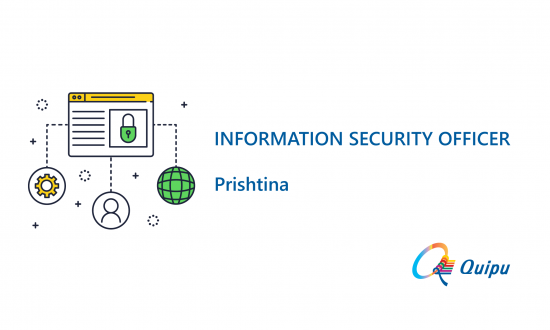 For our office in Prishtina, Kosovo, we are looking for an Information Security Officer (Job-ID: 21003) to join our international team at the earliest possible date.
Main tasks and responsibilities:
Responsibility to ensure that vendor Information Security Management is in compliance with all regulations of VISA, MasterCard and UPI security standards and laws
Preparing and updating the written procedures related to Information Security Management
Makes periodic checks of user activity logs and reports for any unauthorized and/or suspicious activity
Investigating every evidence for fraud, burglary or manipulation of data
Reports on a monthly basis for the current status of security compliance and security issues to executive management
Organizing workshops to keep employees aware and informed of policies and procedures and be responsible for security within their own area
Analyze and verify the implementation of best security practices and regularly check for security compliance and recommendation in the IT Infrastructure
Investigate, document, and report on information security issues and emerging trends
Provide Incident Response (IR) support when analysis confirms actionable incident
Requirements:
Bachelor's degree in Computer Science, Computer Information Systems, Risk Management or another related field
At least 3 years IT related experience as an Information Security Officer/ Security/System/Network Administrator or equivalent knowledge
Strong knowledge of security-related technologies such as AV, Proxy, IDS, Security Information and Event Management (SIEM), vulnerability scanners and anomaly detection tools
Strong knowledge of Windows operating system and Active Directory
Understanding security vulnerabilities in common operating systems, web application servers, including knowledge of remediation procedures
Fluent English language, both spoken and written
Knowledge of various security methodologies, processes, IT/IS industry standards and best practices
Knowledge of network technologies
Experience with PCI standards; bank IT; cloud technologies; project management and IT Risk Management are an advantage
Knowledge of advanced threat management
Acquired certificates of core competence
Our offer:
A substantial degree of flexibility, allowing for an autonomous approach to performing duties
Challenging and varied work
Flat management structure
Long-term prospects with plenty of opportunities for development and growth
Excellent team-oriented and international working environment
If you think you fit the profile, we look forward to receiving your application in English, including CV, motivation letter, and salary expectation, at the following e-mail address:
The deadline for receiving applications is 31st October 2021. Please include the Job-ID in your application.