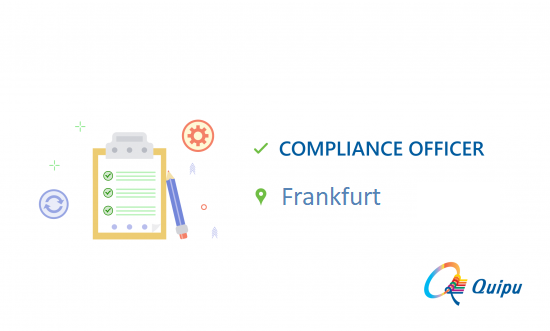 We are looking for a Compliance Officer to join our team in FRANKFURT.
Quipu is an IT consultancy and software development company, which provides comprehensive end-to-end solutions for banks and financial institutions, from electronic payments to software systems. We are a 100% subsidiary of ProCredit Holding, the parent company of a group of banks that specialize in providing financial services for SMEs.
Headquartered in Frankfurt, Germany, we are currently operating from 8 regional offices around the world – in El Salvador, Ecuador, Ghana, North Macedonia, Kosovo, Ukraine, Russia and Romania – enabling us to promptly address the needs of a global customer base.
As an international organisation, we value diversity and we are dedicated to a culture of growth and innovation, creating an environment where everyone has the opportunity to develop their skills and fulfil their potential.
What your key responsibilities will be:
Promoting a quality oriented and continuous improvement culture throughout the organization
Preparing and maintaining the policies & documentation to support the Certifications & compliance for the standards & frameworks adopted by the company
Design, review and evaluation of organizational processes
Setting compliance objectives and support that targets are achieved
Supporting the design of new and existing processes in accordance with the requirements of the standards, frameworks & regulatory compliance adopted by the company
Support in setting up and maintaining the process control framework and specific controls.
Creating reports on gaps identified during internal audits and reviews along with their corrective and preventive actions
Supporting External Audit Engagements and ensure the gaps identified during the Audits are remediated in time
Defining quality procedures in collaboration with operating staff
Providing Process Trainings to operational staff
Analysing process performance data and benchmarking against defined parameters
Establish and maintain documentation procedures
Skills and experience we expect from you:
University degree in Computer Science, Mathematics or Business Management or related field
Experience in managing and working with geographically distributed and remote team members
Experience in the IT Service Industry and possessing good understanding of ITSM Processes and international Quality Standards
Understanding current trends in Enterprise IT
Strong analytical skills and experience with implementation and administration of Quality Assurance
Knowledge of ISO 20000 & 9001 standards, ITIL as well as familiarity with other organizational frameworks such as SAFe, Scrum, DevOps, Agile, etc
Highly proficient in spoken and written English
What we offer:
Excellent team-oriented, dynamic and international working environment
Challenging, engaging and varied tasks
Personal and technical skills development with certified trainings
Modern workspace with very good public transport connection
Inhouse German classes
Travel possibilities
30 paid vacation days
Job Rad and Job Ticket
If you see yourself in this role, let us know in an e-mail, we would like to get to know you.
Send us your application including CV, motivation letter, salary expectations and Job ID 22034 at joinus@quipu.de, by 31.08.2022.