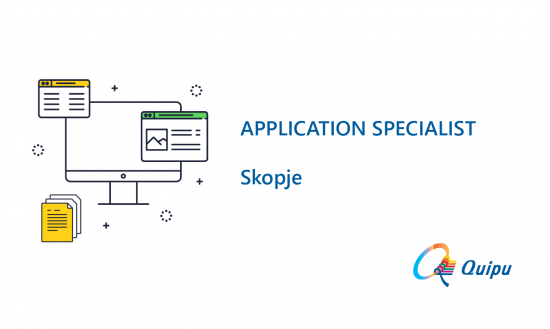 For our team in Skopje, North Macedonia, we are looking for a motivated and enthusiastic Application Specialist (m/f/d) (Job ID: 21008) to join our international team at the earliest possible date.
Main tasks and responsibilities:
• Manage the day-to-day operation of the Application Support team, work assignment and scheduling
• Providing technical direction and expertise in areas of application/software fixes, tuning, monitoring, troubleshooting, deployments, support, and documentation of standards and procedures for the administration and maintenance of all supported environments
• Support and maintenance of the core banking applications
• Perform core banking system configuration, parameterization, version upgrades and maintenance
• Support the ongoing projects
• Provide support for the testing of new and existing software applications
• Participate in the process of integrating and releasing new application/software functionality, ensuring all service acceptance and operational deliverables have been successfully developed and agreed prior to handover, through the formal change management processes
• Troubleshooting a complex transactional application system based on MS SQL
• Investigate problems and other requests for support and determine appropriate actions to take
• Design, implement and maintain functional reports in Visual Studio, Reporting Services
• Manage requests for IT application/system access, ensuring full compliance to agreed security policies and procedures
• Monitors production system notifications and act accordingly to resolve urgent problems
• Produce management information reports
• Communication with 3rd party vendors
• Consulting internal departments, end-user support
Requirements:
• University Degree or equivalent in Computer Science or Engineering
• 3+ years of relevant IT experience, 1+ year in application support experience
• Experience in the analysis, design, development, implementation, testing, and maintenance of application systems based on SQL Server
• Knowledge of Microsoft products and Microsoft SQL Server tools
• Understanding of Core Banking Applications
• Understanding of banking business processes
• Fluency in English language, both spoken and written
• Self-starter, well organized and motivated
• Ability to work under pressure and establish priorities
• Ability to work independently and as a member of a team
• Desire to learn and develop skills further
• Responsible and reliable
• Willingness to mentor and coach other team members
• Able to work across multiple projects simultaneously
• Willingness to travel
Our offer:
• A substantial degree of flexibility, allowing for an autonomous approach to performing duties
• Challenging and varied work
• Flat management structure
• Long-term prospects with plenty of opportunities for development and growth
• Excellent team-oriented and international working environment
If you think you fit the profile, we look forward to receiving your application in English, including CV, motivation letter, and salary expectation, via the following e-mail address:
The deadline for receiving applications is 30th June 2021. Please include the Job-ID in your application.